Tuesday, January 25th, 2011
---
7:54 am
- still kickin'
Babies & business goals really do a number on the amount of time one has to spend online... or doing anything else for that matter.

The internet simply wasn't what it was back then. I'm not who I was either, thank goodness.

I've been meaning to update for quite some time, and to get into a routine of updating, but what I want tends to come last, after what the boys want & need, and then following what I need to do, and then finally getting done if I actually have time AND energy left for my own wants.

I wouldn't change it for the world.

Who's still here? I feel a list cleanup coming on, so speak now or forever hold your peace ;)

I'm trying to decide which of my journals to keep as my personal. *Can someone (Cynthia??) please resend me the link to post via email from my blackberry? *I think this is the third time I've requested this link. You'd think I would have bookmarked it. Nope. That would be too clever & organized.

How is your 2011 so far?

Mine is much better now that I've unsubscribed from all the news tweets & have stopped watching CNN while folding laundry at night. The sky is no longer falling & I no longer think that the world is a terrible place. Bad news every 5 minutes via text & television can really do a number on a mama's head.


(9 smooches | smooch me )
Monday, November 16th, 2009
---
1:47 pm
- HELP!
Sunday, October 4th, 2009
---
4:56 pm
4:47 pm
- It's been a while!
I just can't seem to make time for livejournal these days. I miss it, but not enough to sacrifice my much needed nap time, or going to bed at a decent hour routine :)

This is my 4th pregnancy, and I have come to the conclusion that I really am not a fan of the process... I'm willing to sacrifice my body & let something grow inside of me, and take from my very bones what it needs to survive, however WHY does that have to come with a punishing and fluctuating nausea that at best feels like an unsettled tummy. At worst... you don't wanna know!!

Mateo will be just turning 2 when the new baby arrives. WOW!! That's close! There were 7 years between my first sibling & I. I had to really want & wait for it, through divorce & all. I hope that Mateo & whoever is inside of me grow up to appreciate each other & respect one another.

Everyone seems to think that this is a girl. It just feels a notch or two higher on the scale of draining than Mateo was.

He's getting to be SUCH a big boy now. I just went through all his clothes again on Thursday to store what he's outgrown, and to switch it up with the "bigger boy" clothes he has. He counts to three (he just says it, but I'm not sure he understands what it represents) because we play 1, 2, 3 JUMP at the pool, and he carefully steps off the edge of the pool, already holding my hand. LOLOL I'll say ONE, and he says, DOOO, so I say TWO, and he says DEEEE and he waits for me to say THREE! before he "jumps".

He also says horsie. But it sounds more like OR-EEE. He's going to be the cutest little or-ee anyone ever saw this year for Halloween :)

The end of Mateo's teething is in sight! *I'm still getting up a min. of for times a night on average with him. I'm starting to think there are more teeth showing than gums, and the molars are almost through (which are the worst of it I would imagine).

I'm watching the scale creep in the other direction now, and it's almost amusing to me. I know I'm capable of losing it, because I really feel I did a great job in taking care of myself & getting into shape after Mateo. I'm definitely going to walk my way back into healthy & fit. I will be often eating what the kids are eating, which of course will be healthier stuff, and smaller portions. More often eating suits me just fine :) Being at home and having the luxury of being able to prepare or go out & purchase whatever strikes my fancy, I enjoy cooking healthier and delicious things. *while I'm pregnant & nauseous, I have to admit, our meals have been a little more on the bland and boring side.

My girlfriend told me about this movie the other night, and then today sent me the link... I won't watch it at night!! http://www.thefourthkind.net/

I'm off to tidy the downstairs before Mateo wakes up from his nap.

I gotta throw this in too:

*If anyone (in Canada) would like to consider part-time or full-time income as an Avon Lady I would LOVE to have some new energy on my team. I'm a Unit Leader and would love to assist you in getting your Avon business off the ground & running. Have more time for yourself and your family (not to mention fabulous discounts on your own products). I am here to answer questions you may have & help you along the way. It's $20 to become an independent Representative (no catch or obligations), and Avon is offering new Representatives $100+ in free product when you submit a 1st or 2nd order of $125 or more. That's IT! AND....... you get 40% earnings on your first two orders. Think about those earnings. Ask me about PCA (Avons special incentive for new representatives to earn an entire year of 40% commissions!!)

www.LadyAvon.ca to join my team today. $$ in your pocket in less than two weeks!

current mood:
nauseated
(smooch me )
Friday, August 21st, 2009
---
8:00 am
I'm working on my Montreal presentation & I need to make an image of my truck look like the wheels are turning...

Can someone help me?

I'm on msn messenger right now...

mezmerise@hotmail.com
(smooch me )
Sunday, August 2nd, 2009
---
5:37 pm
- Who wants to make money??
I'm still needing a few more additions to my team to secure my win for the most recent Avon incentive running...

- I'd LOVE to have a few feisty women like myself who are ready to kick some butt & take some names :)

I will support & assist you along the way of getting started & in growing your business.

You WON'T regret it!

* No minimum ordering
* No door knocking required
* No cancellation or penalty fee if you decide it's not for you.
* Satisfaction Guaranteed Products
* Commissions paid on even the smallest orders
* E-brochure now available (easier to sell than ever - from your computer!)
* Internet order credits given

Does 40% commissions on your first TWO orders sound good? *or a 40% discount on your own stuff!

$20 is your only investment :) That's it!

*ANYONE IN CANADA IS WELCOME TO JOIN MY TEAM!
~ I'm told that in the near future we'll be able to add US reps to our teams too, but for now... :(




Email me: Meave@LadyAvon.ca!
(smooch me )
Monday, July 20th, 2009
---
9:55 am
- Home
The only thing better than going away for the weekend is coming home :)

Had a fabulous weekend by the pool:



So did Mateo :)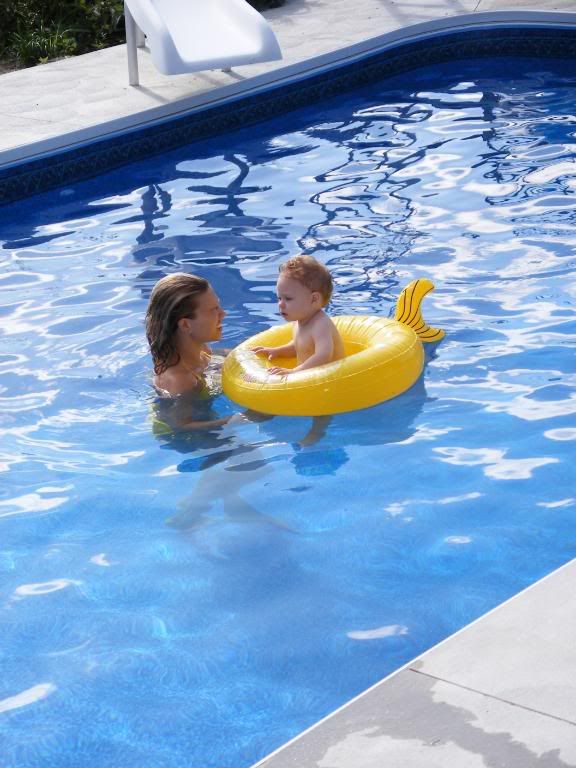 We're STILL tired actually, but there's a ton to do this week, so I'll just have to try to nap later if I can :)

Today, my to do list is as follows and in NO particular order:




Clean out the fridge


Grocery Shopping


Unpack


Return all weekend voice mails


Laundry


Remind everyone about Wednesdays Avon order deadline


Clean the first floor windows (inside & out)


Stamp 100 Avon brochures for golf tournament tomorrow


Make home made soup


Get organized for charity golf tournament tomorrow


Pack free samples & business cards for tomorrow


*and of course give a brochure to any & everyone I exchange pleasantries with today including cashiers*




My mother gave me some REALLY great stuff on Friday when I stopped in to pick up our spare playpen, including the vintage Armani jacket I've been drooling over since the day she brought it home. Knowing how much I love it, and how little she's actually worn it, SHE GAVE IT TO ME!

I shall post photos. PROMISE. Along with some other stuff too...

I've decided that Lady Avon is ALL about the Vintage. Why not, right? One more way to be extra unique & have some fun with it. Dresses, gloves, hats, etc. I'll take some photos this afternoon if I can find some time to post some of the things I've already acquired, and I'll show you my fabulous outfit for tomorrow's charity golf tournament.

If you, or anyone you know has great vintage stuff not being worn or appreciated, PLEASE! Send it my way!!!

I'm looking for everything from dresses, to suits (sizes anywhere from 8 and up - I'll have it tailored), hats, gloves, accessories, shoes (8 or 8.5), purses/bags, and of course, if you have any vintage Avon products, I've started collecting those as well!



LADY AVON
PO BOX 71580
AURORA, ON
L4G 6S9



I have already started packing my bags & choosing my outfits for the November Avon trip. 3 days expenses paid in Montreal meeting all of the people at head office who make things tick from that end of things, and getting some much deserved and appreciated spoiling & appreciation!

I will be Lady Avon the entire trip! Avon is flying me there, but I'm going to opt for a train ride instead. I've always wanted to take a train ride, and I've never been on anything but a subway or GO train. I want to have a tea, and look out the window, and gather my thoughts, and write in my blackberry, and take a nap, etc. Kinda old school, no? Would Mrs. Albee not have arrived by train? :)

Have a wonderful day my friends.... may your "to do" list be fruitful & manageable. May your energy be abundant and your week be full of wonderful surprises!
Friday, July 17th, 2009
---
11:30 am
- Happy Friday etc. :)
So, I just realized I can change the fonts on here so they're set to that particular font all the time?! Since when can I do that??

It's a picture posting kinda day, don't you think? At this particular moment, I'm listening to Mateo playing and chatting to himself before drifting off to sleep, and uploading photos from my phone to my computer, and then from my computer to photobucket, and then to here (and there, and a few other places I'm sure), I'm also wrapping two birthday gifts (one for my beautiful sister who's bday was on Tuesday), packing for the farm this weekend AND trying to tidy & organize my office, as it always seem to get hit by a tornado every two weeks when deliveries come LOL. Ah, the life of an Avon Lady!

I've been playing around with the website, and hopefully the changes will be made before next week. It needed some brightening.

I'm also going to make an effort to take WAY more photos! I will post them here. Mateo's growing so quickly, and life is happening faster than I remember it happening. I can better cherish the moments by documenting them & saving/sharing them with friends & family.

Speaking of....

Here's a WHACK of photos to start! *grab a drink, have a seat, get your reading glasses... it's all pretty random :)

On my way for a haircut (like my little door-knocker Avon pin??)



Nekkid bb time! (sorry Teo!)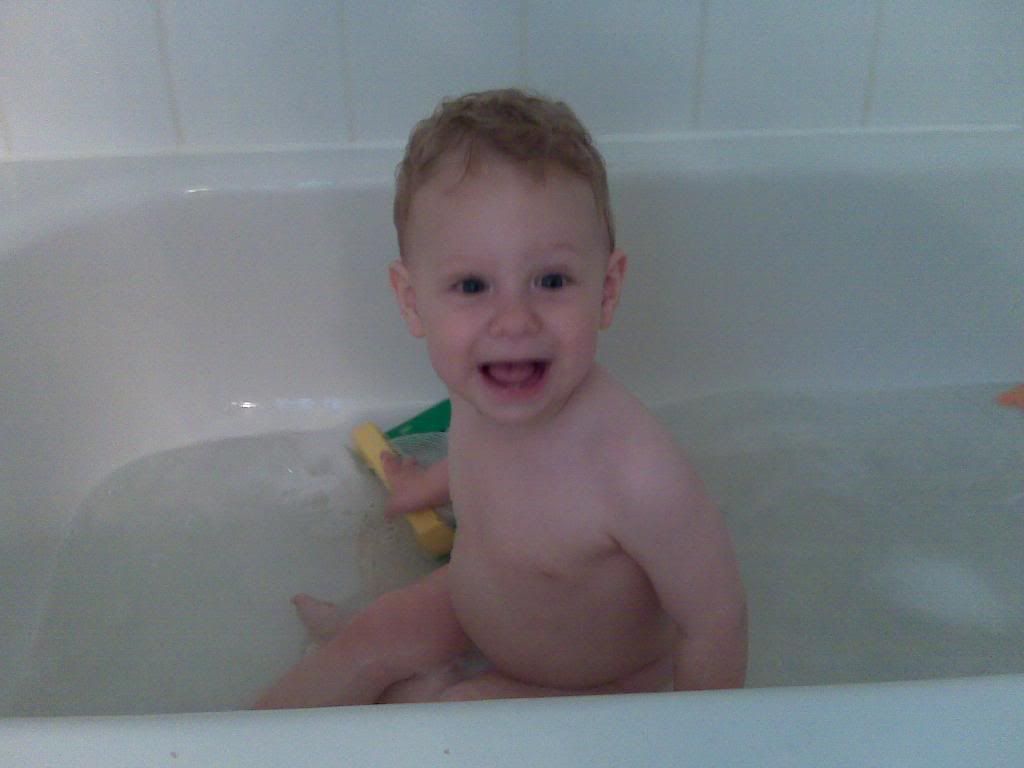 (

MORE PHOTOS HERECollapse

)


OK!

That's all I've got for now. Must go pack & finish wrapping gifts :) More photos promised for next time.

Have a BEAUTIFUL day!
(smooch me )
Sunday, July 12th, 2009
---
7:22 pm
- Pictures & Video (cross-posted)
10:25 am
- I need some creative help!
Sunday, June 28th, 2009
---
12:03 pm
- Vintage Kick
I've decided to start collecting Vintage clothing & accessory pieces for Lady Avon :) I will wear them out for functions/meetings/etc.

If you, or someone you know has anything vintage in size 10-14 (will have it taken in if necessary) and it's just collecting dust, PLEASE! Let me breathe new life & pazazz into it!

Going to put a donation button on the website too, but for now:

Lady Avon
PO Box 71580
Aurora, ON
L4G 4P3
(smooch me )
Monday, February 9th, 2009
---
7:57 am
- Make Money & HAVE FUN!
Hello to all,

I just wanted to send a quick note out to offer some extra income to anyone feeling the economic crunch...

I have been selling Avon for over 10 years, and absolutely love the company & their products. Avon can be part time $$ or full time $$ for anyone.

I mentor new representatives and assist them in getting their new business off the ground, and understand how to navigate the website & place your orders/manage your customers, etc. I also carry a blackberry so that I am easily accessible for questions and assistance.

If you would like to make some extra money, let me know!

Avon is offering a wonderful promotion right now for new representatives (to the tune of $160 in FREE products!) which is amazing when you compare the $20 it costs to become a rep!

* Avon products are 100% satisfaction guaranteed
* Avon products are more affordable than drug store & department store products
* Avon sells itself - you just give out the books

- there is no cancellation fee or penalty fee for not placing an order or if you decide selling Avon isn't for you. No catch :)


Reply to this message, or send me an email to mmastracci@gmail.com if you would like to ask some questions or talk more about this opportunity with me.

How does $$ in your pocket in two weeks sound? *that's how often we get our deliveries now.

Meave.
(smooch me )
Sunday, April 6th, 2008
---
2:10 pm
- Biggest Changes Ahead...
I can't believe this is my last weekend/Sunday before Mateo's arrival.

I've had bursts of energy & also done quite a bit of sleeping. *I don't care anymore if it's day or night, I take it as it comes to me.

I've been thinking that I'd like to start a new journal once Mateo arrives. Is that silly? Princess Blondie is just so.... old?

I realize that not all of you will have interest in the day to day things I'll be going through, so it's OK if you don't follow me to the new journal (which I haven't created yet).

Wednesday is just around the corner, and my life as I know it will never be the same. I feel like I've waited forever for this moment to come, and now that it's almost upon me, I'm having a hard time believing it's real.

I've re-packed my hospital bag, because I couldn't remember what was in it. I've bought all of the things I think & have been told I'll need. I've been doing my reading. I don't think I can prepare myself any more than I am at this moment... the rest kind of depends on Mateo. Is he ready for me? :)

I'm off to have lunch/dinner at the in-laws. Enjoy what's left of the weekend.

xoxo
(35 smooches | smooch me )
Wednesday, April 2nd, 2008
---
1:29 pm
- Sleep & Comfort
I go from sleeping so much I can't believe it (the other weekend), to now, hardly sleeping at all.

At night, my skin crawls. My hands & feet (and whole body for that matter, but especially the hands & feet) are hot & itchy.

I want to sleep, but I just can't. I feel tired, but just can't achieve that level of comfort or physical relaxation necessary to drift off.

I am slowly going crazy, one two three four five six switch.... crazy going slowly am I, six five four three two one switch.

current mood:
crazy
Saturday, March 29th, 2008
---
2:52 pm
I have done nothing but sleep today.

Went to bed early.

Got up this morning with Bru.

Went back to sleep on the couch.

Got up a bit later, had some breakfast.

Went back to sleep on the couch.

Got up a bit later, and had a shower.

Went back to sleep in my own bed.

Answered the phone a couple of times, and went back to sleep (in my bed).

Got up not too long ago and forced myself to get dressed & put some face on.

Now I'm determined to:

- finish my year end taxes
- do as much as I can of my 1st quarter GST because it's due so close to the baby coming
- finish the laundry (two more loads)
- vacuum (maybe save that one for Bruno for tomorrow)
- make a nice dinner
- go see a movie tonight w/Bru

I'd had big ideas for today, most of which included getting out of the house cause it's so nice out. I really wanted to go to the library in town (it's gorgeous). I spend WAY too much money on books, including used. I need to start taking advantage of the fact that the library is so close and so inexpensive. LOL

Tomorrow... the library.

current mood:
tired
Thursday, March 20th, 2008
---
9:04 am
- My last day...
I've had more than 8 months to prepare myself for today, and yet I feel like it's not really happening.

I tend to get that feeling when I travel. Usually when I'm boarding the plane, and I just can't see myself arriving & enjoying a week or however long wherever it is that I'm going. Then I sit quietly in my seat, and secretly wonder if the plane is going to crash, and that my inability to see myself arriving is a premonition.

The plane isn't crashing. Life will go on. Work will manage. I too will adjust.

I can't believe how much my life is about to change...

Easter weekend... my (maybe) year-long Long Weekend. Crazy.

I couldn't sleep last night. I tossed & turned on the couch all night. That's been happening a lot lately (the tossing & turning... it's actually only the second time I've spent the night on the couch). I've been getting really jittery, no matter how tired I am. Like, creepy crawly. My feet get really hot, and I feel like little bugs are biting me. I've been a lotion-nazi, because I'm so paranoid about stretch marks, so I don't know if it's dry skin, or hormones, or what. *ever gone tanning & over-done it a little? And you get the 'itches'. Kinda like that, but pregnant, and NOT tanned. LOL.

I was at work around 7am. I figured, being my last day, better to start early & finish on time, than to stay late. I'm SO terrible with goodbyes. I actually thought about calling in today, and not coming in for the sake of not having to say goodbye to everyone. :(

I keep coming back to the worry of not knowing where my job will be in a year from now, who will still be with the company, how I'll feel about coming back, etc. and letting it really bum me out.

This has to be normal...

I have to just focus on me now. The baby. Our family becoming official, finally, after such a long wait and effort.

Carmella is going to have to do some major adjusting, but she's going to be a wonderful big/little sister. Dog or not, that animal is my child. If only you guys could see how sweet & attentive she's been these last months. Anywhere I sit or lay down, she is right there with me, in some nook or cranny against me. She knows something is very much "up" with me, and I'm not sure if she understands that I'm pregnant. She knows I'm limited. She comes to me a lot easier, rather than making me come to her like she used to. When I have a bath or shower, she's laying on one of the mats in the bathroom. If I go upstairs for anything, she's right behind me. I sit often in the baby's room, in my glider (which I SO love) and I've gotten Carmella accustomed to laying on my legs, rather than in my lap, so that I'll be able to breast feed the baby, or just hold the baby, and Carmella can be there with us too.

My God, I keep looking around my desk, and it still doesn't feel real. Today is taking way too long to get itself over with...

I'm going to have to take a proper hour long lunch to make the day go by faster.

I've already typed up my "goodbye" email, which I won't send out until closer to 5pm. The last thing I want is for people to start saying goodbye to me, and making me cry. I'm really not in the mood to cry today. Not here anyway. Maybe on my way home, or when I get home.

I CAN'T WAIT TO WEAR PAJAMA'S EVERY DAY. No more trying to look nice while HUGE for work :)

I have 20 days, all for me.... I have a list started, of things I'd like to accomplish before the baby comes.

Ugh. OK. I gotta go for a bit. I'm making myself anxious again.

xoxoxoxo
(12 smooches | smooch me )
Thursday, March 13th, 2008
---
1:13 pm
- TGTF
What a week it's been. I fell asleep on the couch last night the moment I got in, and when Bruno got home, I had nothing ready to eat, and could barely get up to say hello to him.

He threw some stuff in the oven & I soaked in the bath for a bit. Right now, there's little better than vegging out in my tub. Only about half of me is under water, but the weight that partially floating takes off my back is SO nice.

My sister is coming up Saturday to hang out, and I told her I wanted to go swimming. LOL. Really, I'm going floating.

I don't know what I'm going to wear, because a girlfriend of mine recently raided my bikini collection for her trip to the Dominican, and I can't for the life of me remember what she took and what she left (if anything).

I miss wearing my engagement ring.

I took it off a few weeks ago after much discomfort. I kept waiting for the swelling to pass/go down, but it only got worse, so off it came. At least my wedding band still fits without my finger looking like a choked sausage.

My belly button piercing looks as though it's still open, but I haven't bothered trying it. I took that out ages ago.

I might work a week longer than planned to get some things finished up. I'm really starting to freak out & resent a few people around here for not addressing things that should have been dealt with ages ago, making my departure smoother. I spent a short spell in my HR lady's office this morning venting some of my concerns & some of the concerns I know my boss has. She's just as unimpressed as we are, and has many issues of her own that remain unresolved within the company.

Some time away from here will be a good thing, but I can't leave things as they are right now. My poor boss has enough on his plate, and the expectation of our department just continues to grow, while no additional support is offered. I don't know what they think I/we do down here... clearly, they can't think much, or they would have hired a proper experienced replacement for me.

Ugh. I don't wanna talk about it anymore.

Thank goodness tomorrow is Friday.

My feet feel hot. My hair feels too heavy. I wish getting up & sitting down was easier... I put it off, and then I forget what I was going to do the next time I got up. LOL

My tummy is soooooooooo big. Let me get Corrie to take a picture.... (sorry if it's crappy - we're using my phone)




He's so high up, right?? I can't breathe. Everyone keeps saying he'll "drop" any day now, but every morning I wake up & he's still right there, right up under my boobs. Making my rib cage burn & ache. I've never loved my chiropractor so much...

Here's Corrie :)



OK. Back to work. ALL OF YOU!

current mood: BIG
(14 smooches | smooch me )
Thursday, February 28th, 2008
---
10:06 am
- I'm still kickin'
So is the baby :)

Been very busy, and quite low on energy.

Several things going on around me that definitely qualify as a "crisis" of some form or another, but I'm just trying to lay as low as possible & keep myself uninvolved.

Had a wonderful shower last weekend and got to see several people I haven't seen since before getting pregnant, because I've been such a hermit through this experience. I miss my friends :)

The house is looking like there's a baby on the way. So much for keeping it limited to the nursery. Right now there's a kick-ass Eddie Bauer stroller in my living room. I LOVE my stroller. It's got the baby seat/carrier as well as the toddler seat, and cup holders for me. I haven't played with it yet & figured out how to fold it down for travel, but I love looking at it and imagining my little man & I having afternoons in the park and going for long walks around our neighborhood.

I think the only big item we haven't gotten yet is the high chair, which, really, we won't need for a while yet, and the less stuff I have packed away in the house, the better. As it is we have several things that won't be needed right away, but I'm glad to have them now, however, finding good spots for them where they're out of the way, etc. isn't easy. Bruno & I have a lot of stuff.... He's a hobby guy. Hunting, fishing, camping, etc. I'm sentimental, so I've got dishes & linens & extra pots, pans, serveware, etc. etc. etc.

I've started gearing up to leave work. Cleaned out my computer. Started bringing things home from my desk. Trying to get my boss organized enough to do without me should anything happen on short notice (like early labour). It's so strange still to think that I won't be working... for however long I take mat leave. Even the idea of a month off is totally bizarro to me. Oddly, it was my life's ambition as a young child to be a mom & home-maker. Honestly, that's all I wanted for myself. To make and take care of my family. Now I can't imagine myself not working.

Speaking of work, I should do some.

xo


current mood:
happy
(3 smooches | smooch me )
Friday, February 15th, 2008
---
9:58 am
- Feeling better :)
Went the pajama, cuddles, kleenex & coleslaw route....

Coleslaw... I know... wtf?

I was thinking the same thing, but it's what I wanted.

Early to bed suits me so well. Loving my new book. "The Red Tent". I think I need to make a habit of reading more books written by women or about women.

Only got up to pee 4 times last night.

Dragged my ass out of bed this morning after hitting snooze for almost a whole hour. It's so hard to get out of bed in the morning when Bruno's still in it, and is all warm & smelling like sleep, and Carmella is squeezed in between us, squinting at me like, "mom... just stay".

Thank goodness for casual Friday's. Track-suit city baby.
current mood:
tired
(5 smooches | smooch me )
Thursday, February 14th, 2008
---
4:16 pm
- One of those days
I'm having one of "those" days today.

Honestly, it's been a really long time since I've had one of "those" days, but I am.

Had a minor altercation on the highway this morning with a jackass in a Mercedes. His fault. Not mine. No damage. Harsh words. More from me than him. Heh. Then Bruno called at just the right moment, while I was trying to calm myself down, to see if I'd safely made it to work yet, and I just started bawling.

I HATE my drive to work while I'm pregnant.

More than anything else, driving is difficult for me. Sure I've got other aches, pains, complaints, etc. but the driving is what really gets to me and causes me physical discomfort/pain. Many days, I get to work, feeling like I've already worked all day, which is not how I'd like to start the day.

Nevermind, when I get home... I am like an old lady. Getting up to go to the bathroom for the millionth time is such a chore.

I don't mean to complain. I'm sorry. I'm not trying to complain. Just kinda letting it out, ya know?

Bruno came & took me out for lunch today to make sure I was OK. He worked a 24 hour shift the other night, and I didn't see him for almost two days because of my work hours, and when he was actually home.

We have a baby class tonight because the weather was too crap & Bruno was working during the class earlier this week, so I rescheduled us. After the day I've had today, I just want to go home, have another cry, a bath, and call it a night.

I feel badly though because we paid for these classes... 4 sessions = $150.00. This is only the second.

Class? Bath? Class? Kleenex? Class? Pamajas? Class? Sleep? Class? Cuddles? Class?

current mood:
crappy
(10 smooches | smooch me )
---